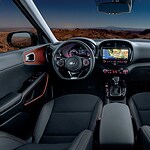 If you're on the market for a fun and enthusiastic automobile, then the Kia Soul is definitely for you. This subcompact SUV has gained a loyal following ever since it came into fruition a few years. In terms of subcompact SUVs, this vehicle is very diverse and engaging.
The 2020 Kia Soul can keep you and your passengers safe and secure while on the roadways. This SUV starts out by offering at least six airbags. There's also rollover sensor innovation that's built-in. The Kia Soul utilizes Electronic Stability Control, Vehicle Stability Management, and other safety features to give you peace of mind. Bluetooth has been embedded into the system, which allows for hands-free functions. Depending on the trim choice, there's even a seven-inch touchscreen display as well as a 10.25-inch HD display.
This only scratches the surface of what you will receive after purchase. If you want more information, then speak with us in our showroom today.